Roll over image to zoom in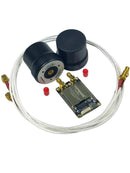 Description
TOP982 is a new generation of GNSS high precision positioning and heading moduledeveloped by Unicore Communications. It supports GPS/BDS/GLONASS/Galileo/QZSS,and can simultaneously track GPS L1/L2/L5, BDS B1I/B2I/B3I, GLONASS L1/L2, GalileoE1/E5a/E5b, and QZSS L1/L2/L5 . The module is mainly used in UAVs, lawn mowers,precision agriculture, and intelligent driving . With the support of on-chip RTK positioning and dual-antenna heading solution, UM982 can be used as a rover or base station.
TOP982 is based on NebulasⅣTM, a GNSS SoC which integrates RF, baseband and high precision algorithm. Besides, the SoC integrates a 2 GHz dual-core CPU, a high speedfloating point processor and an RTK co-processor, with 22 nm low power design, and it supports 1408 super channels. All these above enable stronger signal processingcapability.
TOP982 allows a flexible configuration of multi-system joint positioning or single system standalone positioning . With the built-in advanced anti-jam unit, the module can
achieve high accuracy even in the complex electromagnetic environment .
Furthermore, TOP982 supports abundant interfaces such as UART, I2C*, SPI*, as well as 1PPS, EVENT, which meets the customers' needs in different applications.
Payment & Security
Your payment information is processed securely. We do not store credit card details nor have access to your credit card information.